Deck Installation Company in St. Louis, St. Charles, O'Fallon & Throughout Greater St. Louis
Transform your outdoor living space with a durable, custom designed deck in Missouri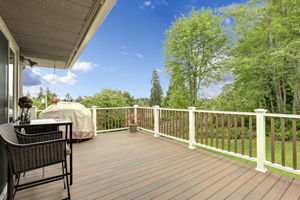 A backyard deck creates the perfect space for relaxing & entertaining. We design & build the deck you want with quality materials.
For homeowners looking to create an outdoor living space in their home, a new deck is an ideal option. A well-designed deck can transform your yard into an area for relaxation and entertaining while adding value to your home.
Fence & Deck Depot Inc. are the local deck design and deck installation experts in Greater St. Louis. Our deck building services include ground-level, raised, and multi-level decks, and we'll provide you with a deck design that compliments your landscaping and the style of your home. We offer a wide range of materials to choose from, including traditional wood and low-maintenance composite decking.
If you're interested in deck building for your home, call us today at 1-844-385-8757 or click below to get started. We will provide you with an expert deck design consultation and a free quote for deck installation in St. Charles, St. Louis, O'Fallon and throughout Missouri.
Customer Review
"We are very pleased with the finished project. Thank You!"

"The work was efficient and well done."

By Richard & Nancy M.
Edwardsville, IL

"Workers on this job were very professional and did excellent work!"

By Charlaine C.
Collinsville, IL

"Somewhat pricey but the product quality is excellent"

By Charles K.
Collinsville, IL

"Great work crew, friendly, polite"

By Clifton & Rhonda B.
Belleville, IL

"Your crew were very polite and extremely hard working. They did an..."

By Al G.
Fairview Hgts, IL

"Selected Fence & Deck Depot because of the knowledge, professionalism of..."

By Regina P.
Fairview Hgts, IL

"Your workers were very courteous, well dressed, and groomed. Very..."

By James & Shirley H.
Smithton, IL

"Both crews were very cooperative on any request and up beat. They were..."

By Carolyn F.
Webster Groves, MO

"Install crew was very prompt, courteous and left no mess for me to clean..."

By Robert H.
Imperial, MO

"The installers were very nice, polite, and did a great job. We're very..."

By Marllene H.
St Charles, MO

"The deck is beautiful I would not hesitate to recommend this company to..."

"I appreciate Scott showing up on the site. Bill Page was very flexible,..."

By Joan R.
St Charles, MO

"Excellent Job! Ben explained everything completely and thoroughly. ..."

By Albert & Jerri Z.
St Charles, MO

"Richard - You guys are exceptional Very pleasant and seemed to know..."

"It was a great experience. Would have anyone choose them."

By Geoffrey & Sylvia H.
Wildwood, MO

"A Job Well Done! Good materials Good workmanship at a reasonable price..."

By Randy & Melissa H.
Ballwin, MO

"Deck looks awesome! Love It! Very great experience, super professional, &..."

"Professional and very helpful."

"What a pleasure it was to work w everyone from your company! You not only..."

By Carl & Deborah M.
St Peters, MO

"Installation crew was courteous and made sure we were clear on what they..."

"I am very happy with the deck we had installed."

"The crew was excellent. Arrived on time, worked hard, end of work..."

By Mitchell & Sandra O.
O'Fallon, MO

"I am very happy with my deck. I esp appreciated Dwayne and Jodie who were..."

By Ceroma & Kirsten L.
O'Fallon, MO

"Great Job! Thank So much - We're very Happy"

"Although I'm still waiting for my deck to be stained I have no doubt it..."

By Tina T.
Dardenne Prairie, MO

"Working with Denis was a wonderful experience. He went above and beyond to..."

By Cathy H.
Wentzville, MO

"Very Happy with our deck and the customer service we received! Great..."

By Laurie Jo P.
Marthasville, MO

"This experience is the best one I have had with a fencing company, sales..."
Our Deck Services:
Deck design
Deck construction
Deck framing
Deck railing options
Under-deck systems
Pool decks
Wood decking
Vinyl decking
Composite decking
Arbors & pergolas
As the local experts in deck building, we handle all the details in St. Louis, St. Charles, O'Fallon:
Siting: There are many considerations, including your home's floor plan, orientation to the sun and prevailing wind, landscaping, and utility locations.
Size and shape: Decks are often thought of as distinct outdoor "rooms" There may not be any walls, but your deck may need to accommodate a cooking area, a dining area, a spa area, and a lounging area.
Traffic flow: For decks upon which a variety of activities take place, it's important to plan for traffic flow.
Railing styles: Railings are often the first thing you notice about a deck! Let us help you chose a type that suits your home and landscape – and that ensures the safety of your family and friends.
Privacy: We can offer solutions to homeowners who want privacy and have close-by neighbors, including trellises, arbors, and pergolas.
Ready to build your ideal deck in Swansea, MO, Maryville, IL & Lake St. Louis, IL? Contact us today for a free quote!
If you can dream it, we can build it! If you're considering adding a deck to your home, the local experts at Fence & Deck Depot Inc. are here to help. Our complete deck design and installation services will ensure that you get the perfect deck for your home.
Call us today at 1-844-385-8757 or contact us online to get started on your deck building process. We offer free estimates on all our services in St. Charles, St. Louis, O'Fallon, Florissant, St. Peters, Belleville, Chesterfield, Ballwin, Granite City, Wentzville and throughout the surrounding areas.